Look No Further For Curb Appeal
Restore order to the yard with landscape curbing. This cost effective, durable addition is the key to training an unruly lawn. This landscape border will stop invading grass from entering while also retaining mulch in garden beds. It can be colorful and attractive or low, discreet and natural. While other products offer quick, cheap solutions, concrete curbing offers a permanent solution that allows the home-owner to focus on other parts of the yard.
Options are available! With concrete curbing the selection process can be much like decorating a home. Not only are colors available but also the selection of shape, style and pattern. The general guideline to color selection is going to start with a base color. This gets mixed into the concrete before pouring and will be consistent throughout the form. When adding stamped patterns to the curbing form there is often the need to have it mimic the form that pattern is after. For instance, brick is going to require some bright red and black splotches to give the illusion of depressions in the shape. No need to choose all the colors required, our team has this down to an art so the customer only needs to say, 'granite stamp' and we're on it. Customization is out there if needed though and certain patterns, like basket-weave, lead towards greater customization.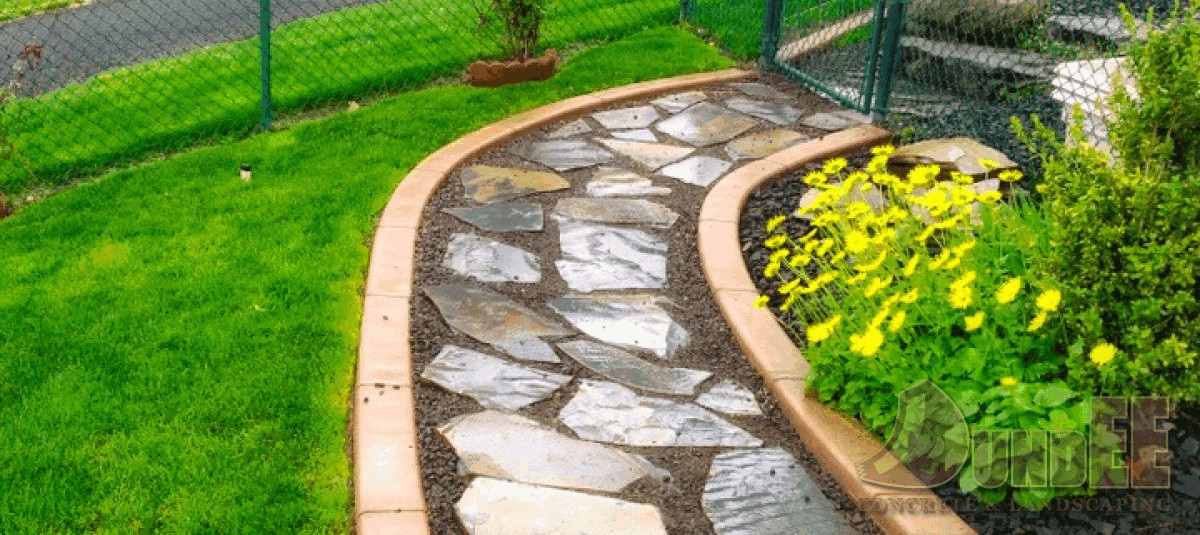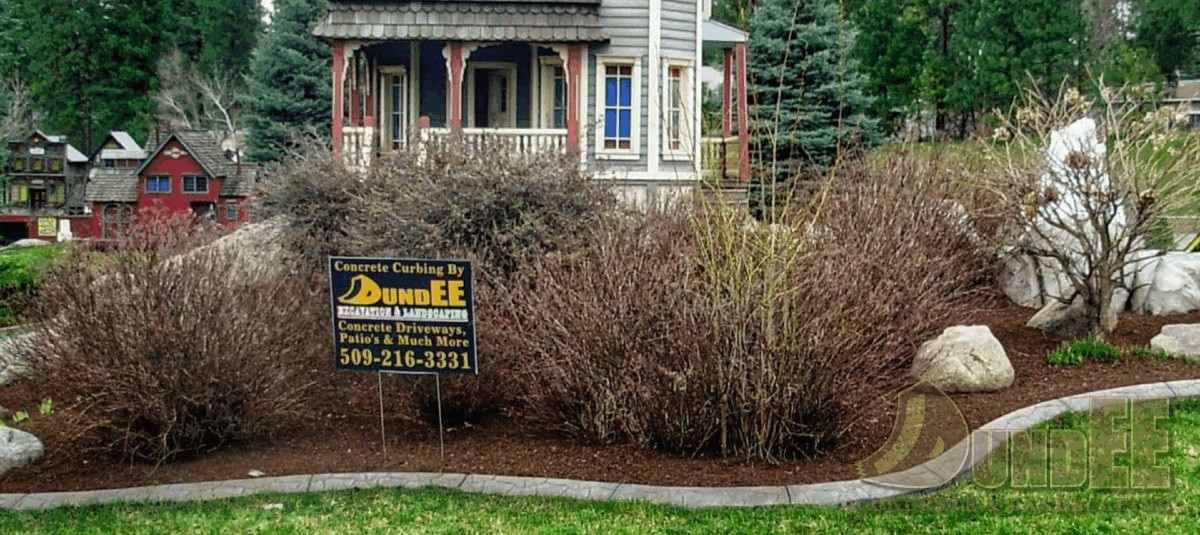 Reduce Yard Maintenance With Curbing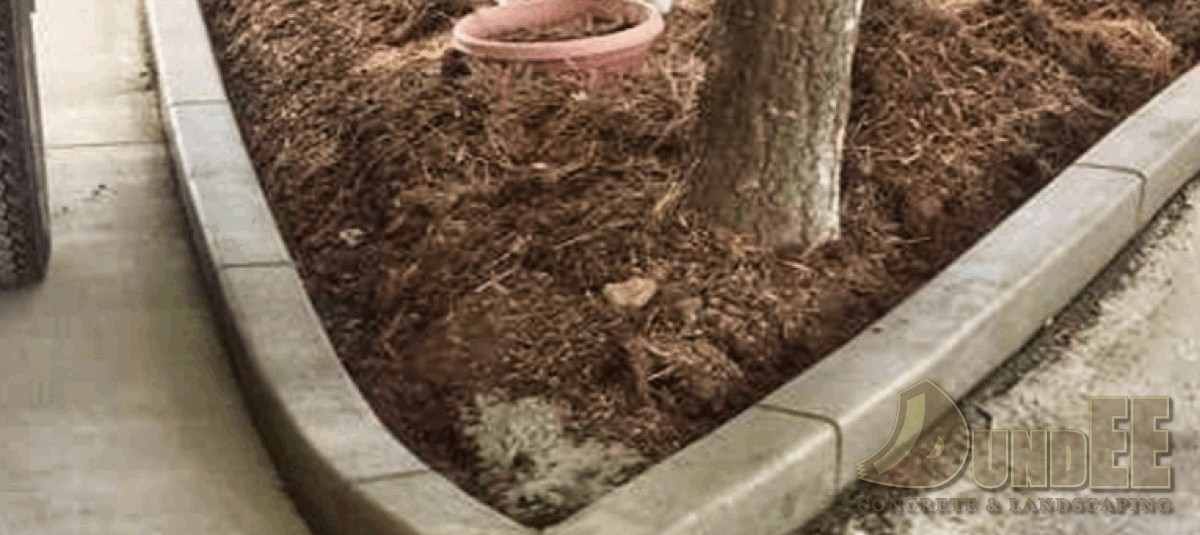 When we install landscape curbing it is a masterful craft that is parallel to none other. Think of it as a fine artwork that can be displayed outdoors for everyone to enjoy. That's how we pride work at Dundee. Take a look through our galleries and let us know what you think. Free consultations and estimates.
Debating on which curbing company to go with? We offer full service curbing install that parallels to none other. Dundee has a dedicated team of landscape curbing professionals that run curbing, curbing, curbing all day. But concrete curbing isn't our only limitation. Often our installs intertwine with new concrete pours for patios and the like. We're used to prepping the land for sprinkler irrigation, lighting, or setting a zone for that new gazebo. So, not only is our team ready to go for curbing, rain or shine, but we're also ready to dial in a site for that perfect landscape.
Curbing Styles, Colors and Stamped Patterns
If you aren't familiar with the trends in concrete curbing you might be wondering what all the excitement is about. Right about when stained concrete countertops were all the rage there was an undercurrent of new designs emerging in the curbing world. This quickly became industry standard and we still use those today.
Stamped concrete changes the look of not only your curb, but the entire aesthetic of the landscape. Choose from patterns ranging from brick to sandstone and colors that will only make deciding that much harder. For a basic concept let's start with the colored concrete curb. Choose your color from the Davis Concrete Color Options available. A good protocol is to find colors in your landscape or home and base them off of that. The style comes next and you can select from a list of options on our concrete styles page. Often times that's the jist of it, we can handle it from there. Colored curbing looks great in a wide variety of settings and can either blend in or stand out depending on how it's applied. For that added touch, the cherry on the top or magical character added to yard there are a variety of stamps to choose from that add an dynamic element.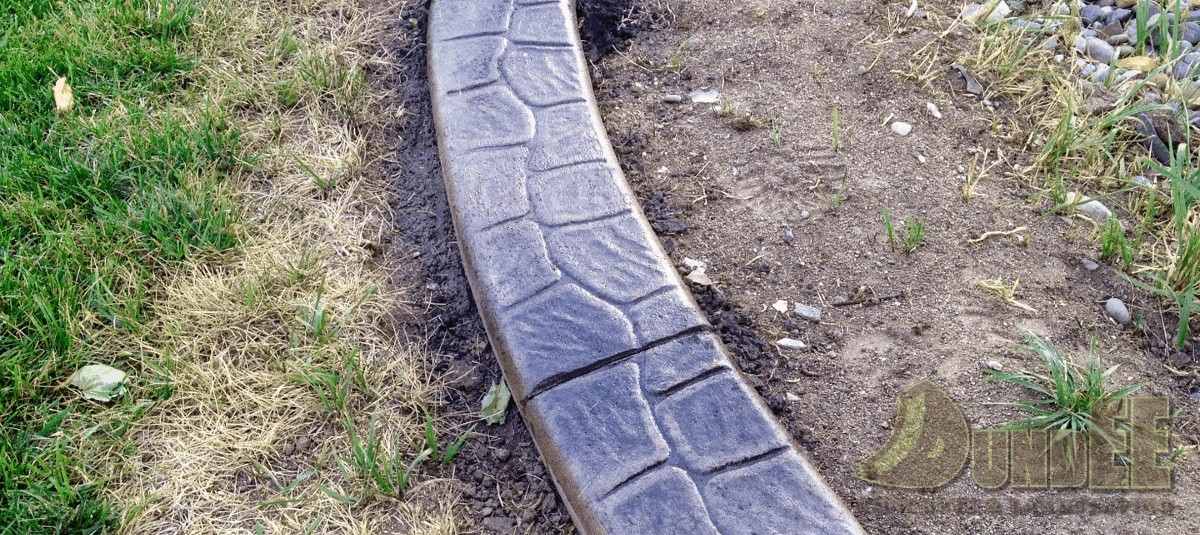 Head on over to our stamped concrete page Stamped Landscape Curbing Options to get an idea of what I'm talking about here. Here you can see that the variety really changes things up. Not only that but color options become more readily available. After the initial distribution of the colored curb is set and the form tightly secured an additional release agent will be applied prior to stamping on the new texture. This release agent is often referred to as the antiquing agent and is used to bring out colors in the base layer. It also helps add a variety of color to the curb to give it the more natural look of the stamp it is emulating. For instance, a natural sandstone look could be accomplished using the Miami Buff as a base color and Rustic Brown as your release agent. The best example I've found on color combinations has been over at the Concrete Network's page for Stamped Concrete Colors. Additional colors may be applied before or after this but it's best to discuss that with your contractor over your free consultation. They will have a much better idea of what your project will be requiring after seeing the initial area.
For the value, concrete curbing is hands down the best method to increase property value to your home while adding an additional wow factor. The options available make choosing fun and give the homeowner the freedom to sculpt a completely unique landscape design without breaking the bank. If you would like to learn more about decorative landscape curbing take a look through our galleries and please don't hesitate to contact us with any questions regarding your front or backyard project.