You Found the Best in the Northwest
From stunning hardscape designs to lush landscapes, we've got you covered!
Our team is dedicated to transforming your outdoor spaces into beautiful, functional areas that you and your loved ones will enjoy spending time in. When you choose Dundee you get the Best in the Northwest. We offer complete landscape installs with craftsman accuracy. Plus, with over 18 years of experience we know how to keep budget to your needs. Interested in learning more. Contact us today!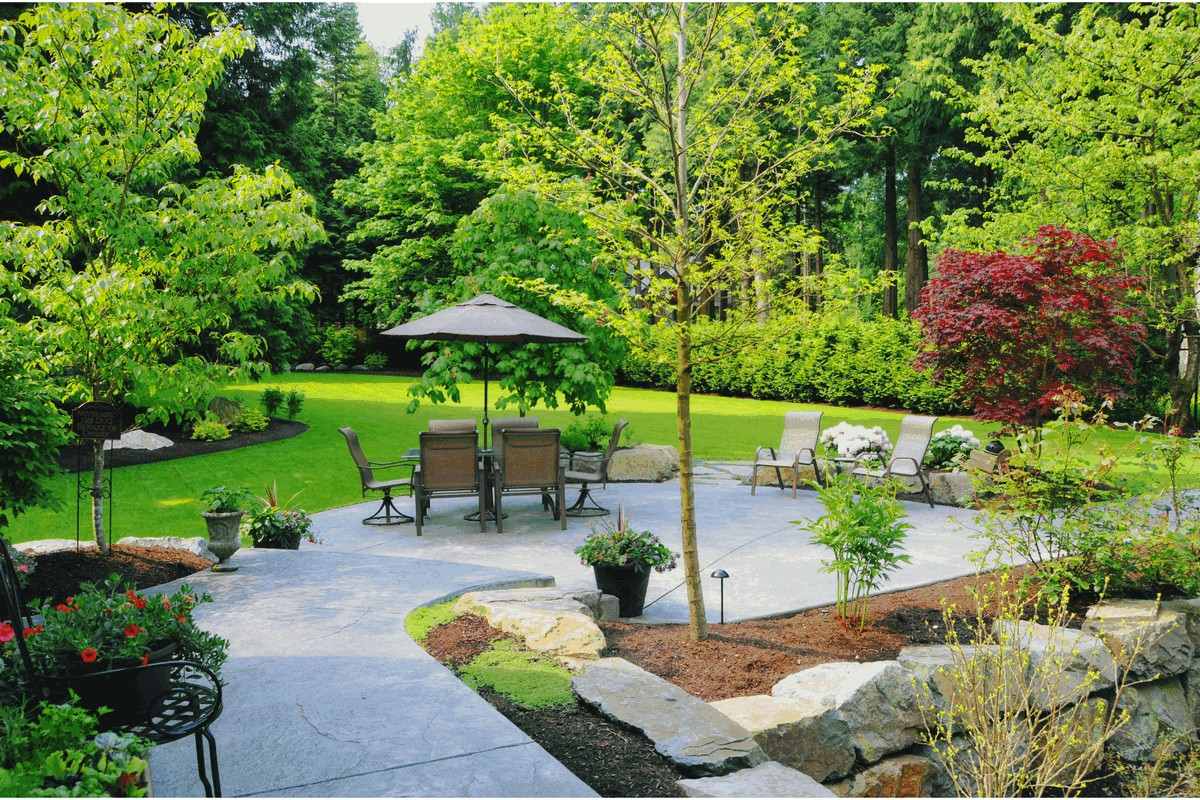 Concrete Curbing
Curbing is an industry standard for creating a border between your grass and natural landscape look. Use curbing for the edges of pathways and around your patio as well. We offer colored concrete options, a wide variety of curbing profiles including the standard mowers edge and rounded curb. You can also add some character to the yard by adding a stamp to your curbing. All curbing concrete includes nylon fibers to help fight against cracking and keep your yard looking great for many years to come.
Landscaping Services
We offer complete landscapes and partial projects. Choose from Water Features, Outdoor Living Spaces, Sprinkler Installation, Patios, Decks, Walkways and Paths, Gardens and Pavers. Tie it together with our expert curbing and you'll have a house to put on the market or one to keep for a lifetime. Browse our Landscaping pages to get ideas for your project and feel free to contact us for a free quote anytime.
Concrete Hardscapes
Our Concrete Projects include: Stained Concrete, Flatwork, Stairs, Curbing and Edging and custom projects. A classic finish style is the broom finish which works for most situations. When you're wanting to impress the guests choose one of our stained finishes. For areas with heavy foot traffic we can easily tie the walkway in with a sand wash to create a good looking slip-resistant path.
Outdoor Living
Looking for a backyard that can be enjoyed all year round? Dundee is equipped to tackle tough problems like making an outdoor living space that works for all seasons. We consider summer sun, autumn leaves, harsh winters, and spring flowers. While many concrete companies are simply stamping and staining for decoration, Dundee considers sand finishes and works with open space to keep in mind functionality. After all the kids play areas aren't the only places that get rowdy. Parents have fun too and incorporating a little extra wiggle room or traction along with the decoration is something the guests can appreciate. Keep Dundee in mind when considering full landscape overhauls and installs. We understand beauty in design and peace of mind when your friends are having a good time.
Stamped Concrete Options
Choose from a wide variety of concrete stamps for any type of project. Concrete stamps look great as a decoration on the border, along the concrete curbing, etched in paths, walkways and patios. A simple feature that adds to concrete stamps is the addition of a sand washed finish along well traversed areas. This allows for extra traction for the path along with making the stamp feature a little more subtle. Stamped features are an excellent way to create luxurious features on a budget. Take a look through our stamped concrete gallery for a better idea on the stamps we offer and be sure to reach out if you have any questions!
Broom Finish Types
What separates Dundee from other companies is our attention to detail. We offer customization at the ease of the customers hand. Most concrete companies will offer a broom finish as a simple feature that's pretty cut and dry. For standard commercial installations this may be the case, but we're talking about your project here. If it can be enhanced on a budget, then let's do it! At Dundee, we offer three forms of standard broom finish from heavy to light and also consider the broom swirl for added character in patios and what-have-you. If the type of broom finish needed isn't requested, no need to worry. Our installers are adroit at concrete install. We'll put a heavy finish in the walkways and keep it simple on other areas. Certainly mention the broom swirl though if you're considering it. Examples can be found on the gallery page and for a detailed explanation on each of the finishes, visit the Broom Finish Types page.
Boulder Walls
Spokane's buzzing with the new boulder wall craze. They're cost effective, extremely durable and offer a natural, old-word feel to any landscape. The Dundee landscaping crew has been building boulder retaining walls for over fifteen years. We specialize in tiered garden walls, sitting walls and standard tall boulder retaining walls. Contact us today for a bid on your area and let us know if you have any other areas you'd like to consider landscaping. Looking forward to going over this project with you!
Dundee Concrete & Landscaping Services
Dundee is known for quality craftsmanship and customer satisfaction. We're local, loyal and known as the best in the Inland Northwest. ~Dundee LLC
No Design, No Problem.
We're used to taking a napkin drawing and turning it into an elaborate home install. Focal points and natural features are a good place to start when dreaming up your perfect landscape. If you need help getting started just give us a call: (509) 443-5800. We love going over project ideas with potential customers. Our office hours are roughly 9-5pm Mon-Sat. If you don't get ahold of us, please simply leave a message and we'll get back to you. Building foundations will require a blueprint and serious retaining wall installations often require engineering. If you require any of these services we can offer references to other serving pros that are experienced in landscape design.
Not sure where to start? We can help.
Not sure what to do with that sloped grade? A retaining wall can turn any ordinary slope into a beautiful tiered garden. Choose from a variety of options and receive quality every step of the way. The landscape serving pros at Dundee understand how to establish durability in this climate. We know the bedrock, soil types, trees to work around and how to adjust our install according to weather conditions. You're not getting that with any average concrete contractor. Best of all, we have this dialed in and can offer quality craftsmanship at a competitive price. When you hire Dundee, you're hiring the Best in the Northwest.
We look forward to working with you on your next landscape project. Feel free to give us a call at (509) 443-5800 to request a quote or go over details of the projects that are on your mind. A great way to start the conversation is to jot down a few notes on the area you're thinking of, take some photos and put them together in an email. Send us what you worked up and we'll take it from there. Talk to you soon!
Connect With Us On Social Media