Dundee Concrete & Landscaping is a full service concrete contractor LLC. We offer a wide range of concrete installations and feature premier stamped concrete services. Dundee is known as the Best in the Northwest. Take a look through our work and be sure to get in the books for a consultation before you leave.

Best Concrete Contractor in the Northwest
Local & Loyal, Dundee is known as the Best in the Northwest. We offer patio installation, building foundations, driveways, fireplaces & firepits, outdoor living spaces, landscape curbing, lighting, hardscaping, pavers, porches, pool decks, concrete stairs, retaining walls, walkways and water features. Decorative features include stamped work, concrete finishes and detailing. Visit dundeedig.com to learn more about the services we offer.
Broom Finish Options
Sand Wash Technique
Exposed Aggregate
Stained Concrete
Broom Finish Options
Broom Finish Options
A broom finish is the classic standard for concrete installations. It looks sharp, adds traction, is cost effective and helps mitigate water flow. Choose broom finished concrete for walkways, driveways, patios, porches, steps and just about anywhere with heavy foot traffic. Colored concrete options can be incorporated with a broom finish but stamps cannot be added. One trick is to use a broom finish on pathways while incorporating decorative stamps on the perimeter and less walked upon areas. If you have any questions or would like to pick our minds on something, send us a message through the contact form or use this quote request area below.The Broom Finish
Sand Wash Technique
Exposed Aggregate
Stained Concrete
Stamped Concrete Patterns
Looking for a beautiful patio or driveway on a budget? Stamped concrete is the way to go! With concrete patterns and colors a full range of designs can be harnessed. Check out our Stamped Concrete >> page to learn more about the services Dundee provides. Typical installs include: driveways, patios, stairs and walkways but stamped concrete can be installed on a full range of projects. For a stamped surface that includes a little traction take a look into our sand washed finish >> projects. The sand wash finish is an excellent way to include stamped concrete in areas that receive heavy foot traffic. It looks amazing under the foot while providing a steady surface for friends, family and the pizza guy. But, if a fully stamped walkway is out of the budget or the look seems too busy there an excellent choice is to simply stamp the border. Stamped borders provide a sharp look to any home. For more information on stamped borders take a look at our Stamped Borders >>
Concrete Work and Hardscaping Services
Concrete work and Landscaping are the foundations of Dundee LLC. We have been providing concrete services in the Spokane area for over sixteen years. Our team is skilled in all forms of concrete services. We excel in curbing, stained, sand washed, concrete stairs and custom finishes. Browse through our site and make note some of your favorite projects. We can take those ideas and help put them into a project of your own. Feel free to contact us with questions or to request a free quote today.
Full Service Concrete Installations
Our concrete installation is precise and skilled. Being a concrete installer you have to work with the weather elements and temperature. The drying process is where many of the finishing touches are applied and it takes a skilled professional to know when the concrete is ready for that extra finesse. We start from the ground up. A solid base, exact measurements and a skilled team who has done this so many times, it's like clockwork.

Let's Get Started
Budget Friendly Services
Concrete is an affordable option to improving your outdoor areas. It can be used to create paths, walkways and patios or to enhance them. We come to you as experienced professionals with close to two decades of experience in concrete. Our team members have their own specialties and services they excel at and with a project done by Dundee you'll not only get a complete service but one with exceptional care and a finesse of character.
Highlighted Concrete Services
CONCRETE SERVICES
Concrete Steps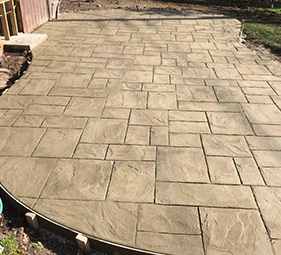 CONCRETE SERVICES
Stamped Concrete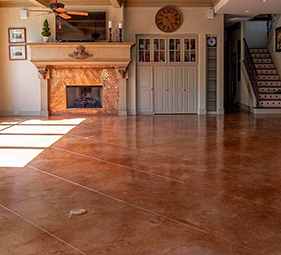 CONCRETE SERVICES
Stained Concrete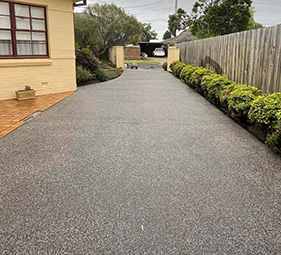 CONCRETE SERVICES
Exposed Aggregate