Stamping Adds Character and Value
Beauty in Style
Beautify your home with stamped concrete landscape curbing! With many patterns, textures and colors to choose from, and various curb styles available, Dundee Concrete and Landscaping can spice up your outdoor décor. Stamped concrete landscape curbs serve as a weed and grass barrier for flowerbeds, vegetable gardens and walkways. Patterns include brick, stone and floral designs.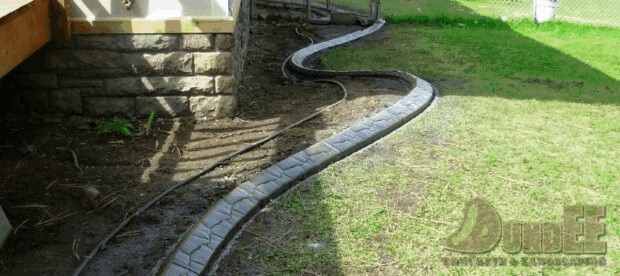 Economical and Durable
Using stamped concrete curbing is a very stylish way to make your landscaping stand out. It's more economical and durable than traditional lawn edging. Plus, stamped concrete curbing's professional appearance adds value to your property. That's like having money in the bank!
Custom Installation
Curves? Straight lines? They're all possible with our custom-installed continuous concrete landscape borders. Any way you like it, anywhere you like it, we can install stamped concrete landscape curbing on the spot adding beauty and function that will last the test of time. All stamped curbing is sealed with a clear sealer to prevent UV damage, chipping and peeling.
Let Dundee Concrete and Landscaping make your landscape pop with stamped concrete landscape curbing. We take pride in providing a positive experience in creating the perfect landscape or concrete project for you. We do our best on every project no matter the size. We offer many types of services from complete Landscape installation, sprinklers, concrete curbing, grade work, concrete driveways and patios, retaining walls, water features and much more. Request a quote today.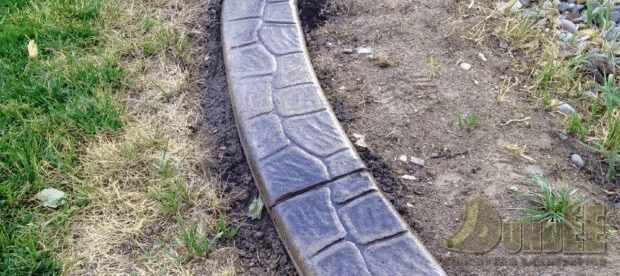 Stamped Curbing Choices
Curbing has come a long way over the years. If you're new to the trends you may be wondering what all the buzz is about. Installing curbing used to be a laborious process of setting forms and relying on a meticulous schedule to ensure everything is handled correctly. While timing is still essential to any concreting job the additional tools we have at our disposal now make the process much more enjoyable. The use of a curbing machine not only reduces set up and install time but also frees our installers up to add artistic touches and tend to the curb to ensure it's optimal performance.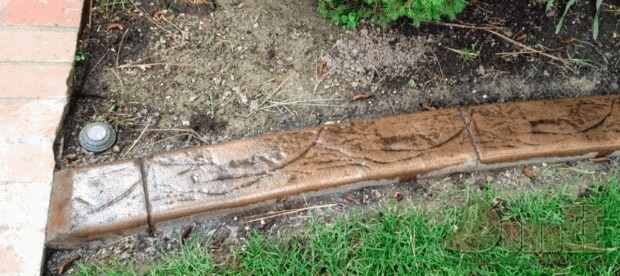 Selecting the Perfect Stamp
When choosing a stamp consider the surroundings in your area. Be that you landscape, home or neighborhood around you. We have stamps that can be rolled on, stamped and pressed or custom options that can be requested. When choosing a stamp consider also the additional colors that can be added. For instance wood plank will have a base color that is light brown with additional dark brown tones to highlight the grain. A brick pattern will use a variety of red tones to emulate the look of natural brick.
When it comes to standard options which include: Ashlar, Brick, Cobblestone, Lava, Flagstone, River Rock, Rosebush, Slate, Wood Grain, Basket Weave and Herringbone.
Premium features include: Random Stone, Belgian Slate, a wide variety of flagstone, Exposed Aggregate, and other wood grain options. You can also have us order additional stamps if there's one you don't see listed here.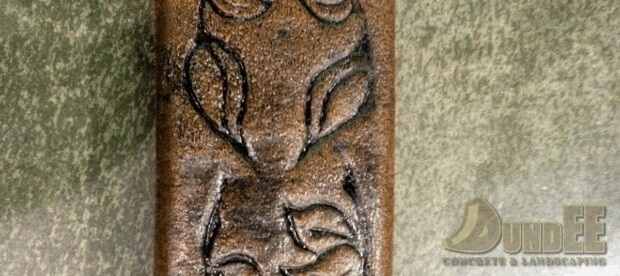 Custom Stamp Features
Oftentimes customers will choose to highlight additional areas using our custom concreting options. Common examples of this are the addition of a sundial pattern, the ever popular fleur-de-lis, sports teams logos or simply the name or number of the homeowners address.
When choosing a stamp pattern the options can seem a bit daunting and oftentimes it is difficult to select a style that will last 15-20 years but that's okay. If you have a selection of stamps that you like or are inspired by designs you've seen in another location then we can work with that. The best thing to do is to request a free consultation, have the contractor come out to your area and go over the options with you. When faced with difficult decisions and basing them off of a landscape you're already so familiar with it is easy to miss the obvious. That is why our professionals are trained to help you through the process in a fun and imaginative manner. We love doing the work we do and our excitement for your project will carry over to you feeling good about your selection and confident about our work.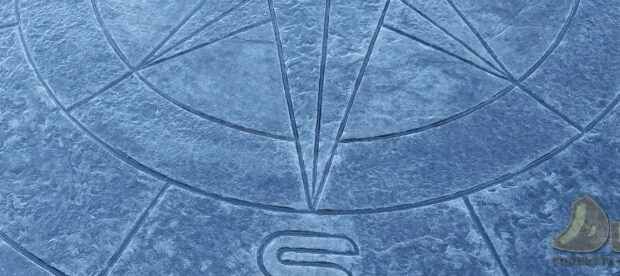 3 x 5 Square
The 3″ x 5″ square curbing is a standard curb size that is vertical front and back and flat on the top.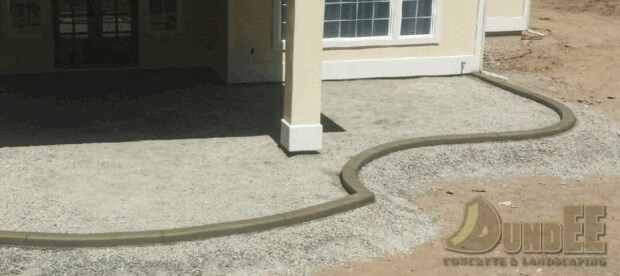 Tapered Slant
The Tapered Slant curbing style features a sloped top face and a slanted backside.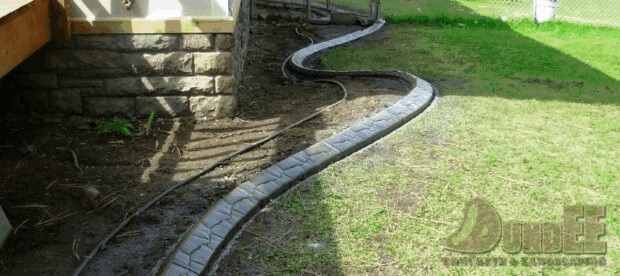 Mowers Edge
Mowers Edge has great 'Curb Appeal' featuring a low, not easy to trip on entry point coupled with a high back which keeps mulch where it belongs. Its style, reminiscent of a picture frame, can help your landscape design stand out.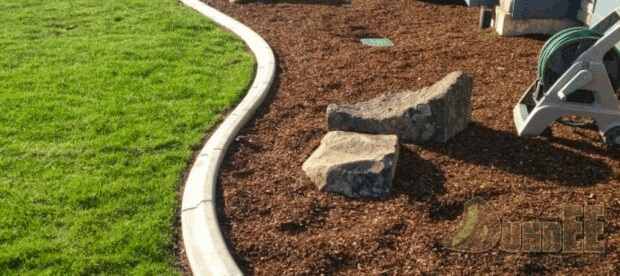 The Slant
The slant-style concrete curbing provides added visual appeal with its stylish angled upper surface, vertical backside and low profile.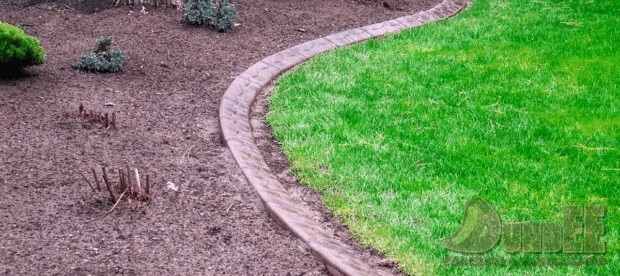 Large Square
The large square curbing style with vertical sides and flat top provides a substantial curb where a greater visual impact or strength might be needed, or where larger volumes of mulch and soil need to be held back.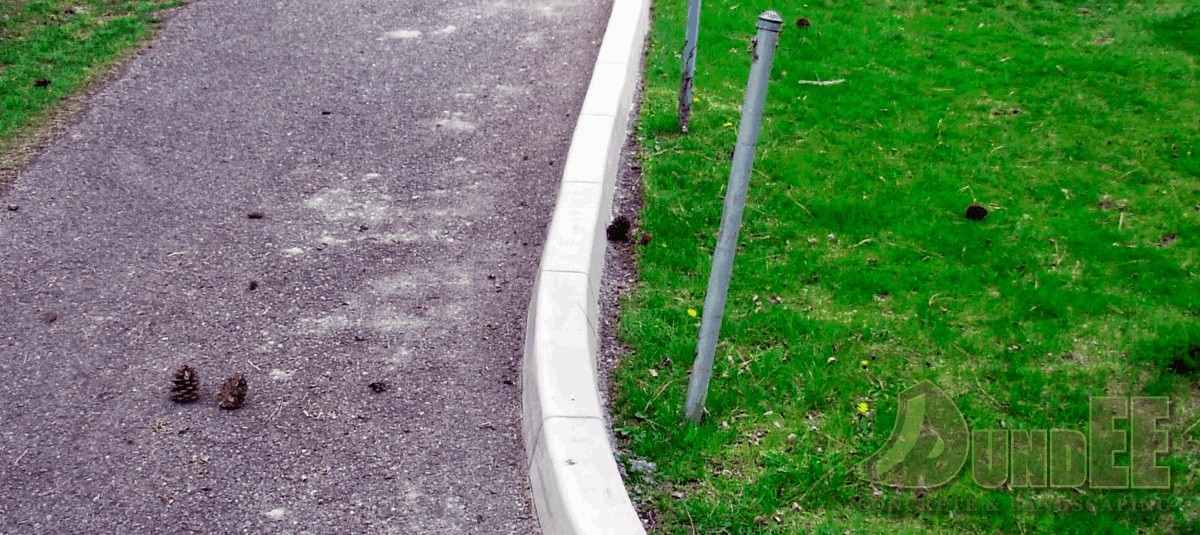 Interested in Learning More?