Sloped Backyard Design Ideas
Some of the most beautiful houses and locations come with a rolling drawback, the sloped yard. What to do with this space? And how to maximize are two of the most common questions when dealing with an unruly landscape.
Instead of giving a full-proof solution here, let's consider the options. Much of the decision is already going to be made after considering the primary elements.
What is the size of the area, how steep is the slope, is it adjoining with the neighbors yard,  and, of course, budget.
What to do with all that Extra Space?
So, we've solved the solution of the sloped yard, but what will be the result of it? There's a plethora of choices to consider, which primarily depend on how you want to use the space. New patios with involved outdoor living spaces are an excellent way to maximize your home and make the most use of the space. Outdoor kitchens, gas fireplaces, and integrated sitting walls with a pergola for overhang are all desirable choices for the new living space. But perhaps the current kitchen is good enough, and the family only needs an outdoor area to enjoy a late night snack.
A Sloped Backyard Might be the Way to Go
A sloped backyard can pose both functional and aesthetic challenges for homeowners. However, with the right retaining wall ideas, this challenging landscape can be transformed into a stunning outdoor space.
Retaining walls control erosion and create flat entertainment, gardening, and relaxation areas. Dundee Concrete & Landscaping explores various retaining wall ideas that can help you maximize the potential of your sloped backyard.


Splash into These Ideas
When installing a retaining wall, the primary consideration is directing water flow. So, why not utilize the inherent problem by combining efforts into a beautiful natural looking stream?
Water features are a solid way to increase property value through landscaping. In the Inland Northwest the theme here is, Near Nature Near Perfect. What better way than to bring nature to you through a backyard water feature? Trickling streams, fountains, and ponds are some of the iconic pieces that bring it all together. These are ways to encourage nature to enjoy the space with everyone while also making it into a backyard that's enjoyed through the comforts of the living room. Standard water features come with design in mind. Others give way to creative freedom in which custom streams or waterfall features can be created.
Pools and Hot-tubs
Since the wall is being created to retain space anyways, why not put something substantial next to it? This would involve a type of concrete wall which deepens into a decent sized pool. Some pool features can be incredibly luxurious with a vanishing edge leading out. This is basically a waterfall dropping over the side of the lip. Installations of this kind would require a fairly significant sloping hill! Typical pools work just as well where the retaining wall holds one side and then leads out to a concrete pool deck. For a naturescape feel consider a boulder wall lining the side of this pool feature which would give way to boulder jumping. Just make sure the deep end is fairly expansive.


Hot tubs are always to be considered with pool features. There is nothing quite like a nice warm soak while looking up at the stars or even enjoying the elements. The Jetted Spa is a wonderful feature that provides encouragement before jumping into the pool then warming up right after getting out. But then the hot tub is typically a budget crunch. Tubs can be expensive, and maintenance is going to take time. One thing to consider is  to establish a place for so said desired tub with an inflatable one. Now, you may say. Inflatable tub, what a joke. But, no seriously. The invention of a portable tub has come a long way. They typically fit 4-6 people with lights, jets, and a control unit. One thing they don't come with is a set of stairs, but set that sucker right next to the sitting wall and jump right in.
Terraced Retaining Walls
Terraced retaining walls are an excellent choice for sloped backyards, as they create multiple-level areas that can be used for different activities. These walls use a step-like design, creating a visually appealing and functional landscape.
By incorporating different materials such as natural stone, concrete blocks, or timber, you can add a touch of elegance to your outdoor space. Terraced retaining walls also allow for the incorporation of tiered gardens, flowerbeds, or seating areas, making them ideal for those who enjoy gardening or entertaining guests.
Beauty and Functionality of a Garden
Large sloping hills make way for many tiers and lots of stairs. Each tiered area works well for a series of garden areas. Consider the light use in imagining these garden spaces. Trees will offer plenty of shade, so if vegetables are to be planned, the veggie garden is going to have to go in front. That will also lean towards easy gardening. Speaking of leaning, with the retaining wall the back bending work will be cut in half.

Gabion Walls
City planners have come to love the ease of gabion blocks for structural landscaping. It is a style that the army has made use of for it's simplicity of design. Gabion is derived from an old Italian word, gabbione which means, 'big cage'. Since this is a budget friendly project, the cages are then filled in with rock. If you live in the Inland Northwest, then fractured basalt rock is going to be the best bang for the buck here. Get something big enough not to fall through the cracks and fill away. Shovels and wheelbarrows are not what we're talking about here. Just set up the cages, order delivery of rock and rent a backhoe for the day.


Gabion walls are constructed by stacking wire cages filled with rocks or stones. These walls provide a unique visual texture and can be customized to match your style.
But, why the gabion wall? Looking for an old renaissance feel? Leonardo da Vinci used gabion in a design for the San Marco Castle in Milan. In fact, from a distance gabion walls can look similar to a large standing rock retaining wall. Looks amazing. The type of steel used won't be compromised by weather fluctuations like wood walls tend to be which allows for vines to interweave between the metal meshing. In-fact, gabion walls can increase in strength as the years go by with vegetation filling in the gaps given by rock. The gabion wall is a long-lasting, permanent solution that can be adapted to any yard. One thing to consider is the welcome invitation to wildlife that a gabion wall introduces. From burrowing critters to nesting birds, this is a wall style that loves its connection to nature.
Gabion walls are becoming increasingly popular due to their ability to combine functionality and aesthetics.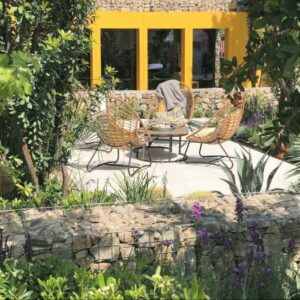 Concrete Block Walls
Concrete block walls are a cost-effective and durable option for retaining sloped backyards. Concrete blocks can be easily stacked in various sizes, shapes, and colors to create a sturdy and long-lasting retaining wall.
These walls can be left as is or finished with textures or coatings to enhance their appearance. Moreover, concrete block walls are low-maintenance and can withstand harsh weather conditions. With the ability to integrate steps and planters, these walls offer practicality and versatility in transforming your sloped backyard.
Natural Block Walls
Natural block walls are an excellent choice for a timeless and natural look. These walls blend seamlessly with the surroundings and offer a rustic appeal. Natural stone walls can be constructed using dry stone techniques or mortar for stability.
They are known for their durability and resistance to weathering, ensuring long-term structural integrity. Combined with clever landscaping, natural stone walls can turn your sloped backyard into a peaceful oasis. If you're interested in a block wall for your area, head over to the Block Wall Page >> to learn more about our installations.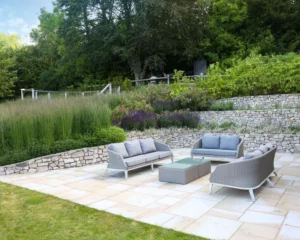 Natural materials for terrace walls by Homes and gardens
Design ideas for natural block walls
Stacked Stone Walls
Nothing says character and charm like an ol' fashioned stacked stone wall. These offer an old world feel to existing homes. As you may have noticed, many of the stacked stone walls of long ago still stand today and seem resilient to changes in time or weather. We install stacked stone in homes typically looking to keep the existing character of the old landscape. If this sounds like you, head on over to the Stacked Stone Wall Page >>
Boulder Walls
All the rage right now are the installation of Boulder Walls. These work as a permanent solution to existing areas. They offer excellent visual appeal and come at a reduced cost of many traditional walls. For more information, visit our Boulder Retaining Wall Page >> and feel free to contact us for  a free quote or estimate using our contact forms.
Timber Retaining Walls
When talking about wood retaining walls people can oftentimes get them confused with wooden fences. There is more to a wood wall than that. The best way to visualize a wooden fence is one made of railroad ties. In-fact, railroad ties are not actually what should be used though, since they have creosote that can cause damage to the soil.
But, large boards similar in size are what this style is after. Selection of a wood wall is primarily going to be for aesthetic function. The wood in a wall is not always the longest lasting material as it tends to break down over time. Typically about 20 years is given for a wood wall to last. Also, height considerations should be viewed at about 4 feet total. Proper care though can certainly increase the longevity of the wall so, don't let these precautions discourage you. Wood retaining walls are a beautiful asset to garden beds around the home. It is an all-natural approach that blends in with woodland settings easily, providing additional character to an outdoor setting the homeowner is after.
These walls radiate warmth and lend a cozy atmosphere to your sloped backyard. While timber walls require regular maintenance and treatment to prevent rotting or insect damage, they offer the advantage of being easy to work with.

A Built In Patio Space
The sunken patio has an alluring appeal to it. Usually tucked back in a space that's shaded with greenery, there is a lot to say about this timeless installation. Most typically people will want to install a fire pit here. It is a great new space that will have a long staircase and nothing like a fire to draw the crowd forth. For basic installation, a graveled area is a solution but there are so many things that can be done with concrete now that it is certainly worth a mention. Stamped patios can add class to an area while also offering an easy place to clean after all the fun is done. Any stamped patio can have a sand wash finish applied to it that will add to comfort-ability to the bare feet. The sand wash finish is similar to an exposed aggregate finish in which the area is roughed up in order to provide extra traction. Since we're located in the Inland Northwest, seasonal installations are a must.


Fire features are always a must when considering a patio. But there's another fire that's brewing in most people's minds, and that's the kitchen. Outdoor kitchens are becoming much more popular in landscaping design. Just roll that barbeque aside and make way for a full scale dinner set-up, smoker and all. That's the best part about an outdoor kitchen, the space. Too often kitchen remodel ideas are stopped in their tracks with the simple words, 'we just don't have enough space'. No longer! Floating island, storage space, extended sink, it's all possible. Plus, the outdoor kitchen is really just an extension to the primary, indoor kitchen. Been trying to find room for that air-fryer? I think we've found the solution.
Outdoor Fireplaces
A wonderful solution to the area gleaned from shoring up those rolling slopes is to install an outdoor fire pit. This is easily incorporated with a sitting wall to match up with the outdoor space. We have a wide selection of fire pit installations to browse and countless ideas to help decide on which way to roll. For detailed information on Outdoor Fire Pits >> this link will help learn more. Our gallery is located here, along with helpful links to continue research on that backyard campsite.
Schedule A Consultation Today!
Retaining wall ideas provide practical solutions for transforming a sloped backyard into a functional and visually appealing outdoor space. By utilizing our creative ideas, you can create a stunning yard that maximizes the potential of your sloped terrain. For more inquiries on sloped backyards, call Dundee today and get a free consultation and quote!