Curbing Styles, Shapes and Forms
Choosing a curbing shape is a purely individual choice that ranges from look to functionality. Most popular among choices is the slant curbing style. This can handle a wide variety of stamps, uses a high back to hold in mulch and features a low front for ease of lawn care. Dundee also features a 'tapered slant' which includes an additional slant on the backside for a uniquely customized look.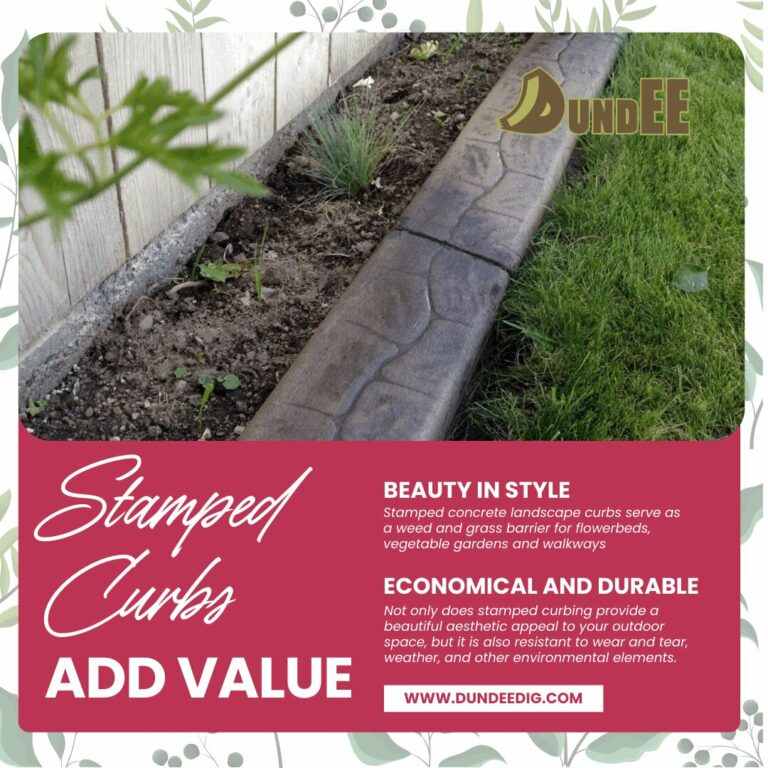 Concrete Curbing Styles To Transform Your Outdoor Space
3 x 5 Square
Large Square
Mowers Edge
Slant Curb
Tapered Slant
3 x 5 Square
Standard curbs are three-by-five squares and can be printed, colored, and otherwise personalized. It is a low-curb, perfect for mowing and keeping your lawn in good shape. Visit our Davis Colour Chart page to make your color selection. The 3×5 square curb works with a wide range of colors and stamps. Tell us if you have decided on one or devised a plan. We hope to hear from you soon.
Large Square
Mowers Edge
Slant Curb
Tapered Slant
Stamp Features
Before applying the stamp an antiquing agent will be applied that brings out existing color in the concrete coloring and adds additional colors to enhance the natural look of the pattern we are emulating. Standard stamp patterns are: Ashlar, Brick, Cobblestone, Decorative Rose, Lava, Flagstone, River Rock, Slate, Wood Grain, Basket Weave and Herringbone. If you see an additional roller pattern on the market that is not listed don't be afraid to ask, we may have it. Our team is constantly updating tools and resources to keep up with trends.
Stamp patterns closely resemble what you would see used in creating a stamped patio or walkway. Our stamped patterns are offered in a wide variety so be sure to inquire further with the office if you are interested. For the most part you will find a wider selection of styles offered through our roller options with the addition of custom stamps and patterns.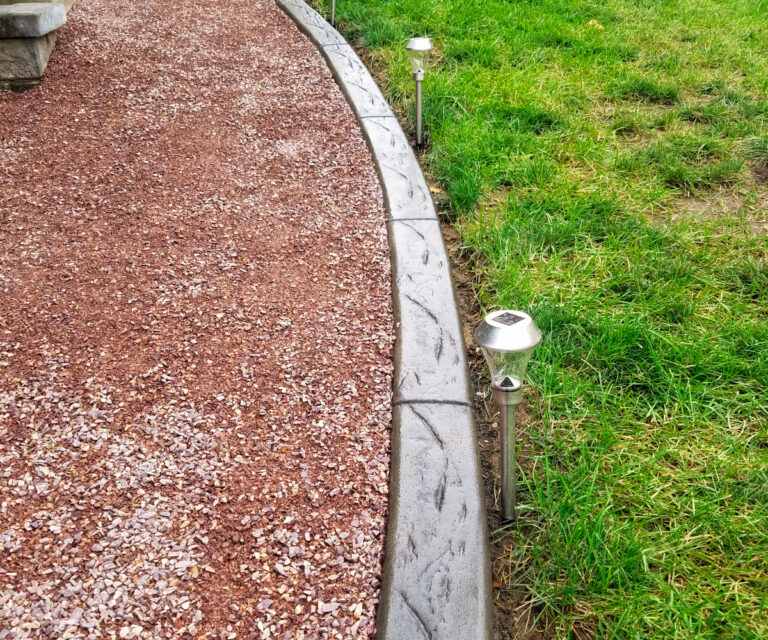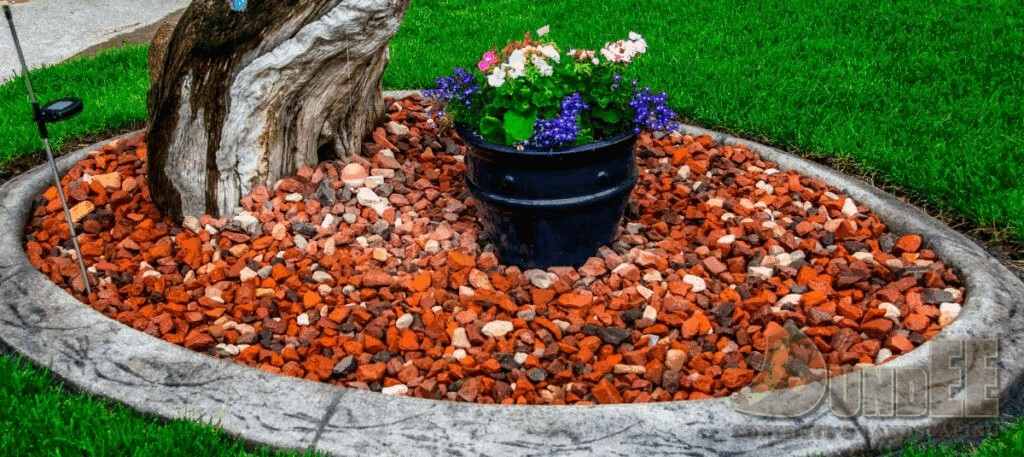 Premium Stamp Features
Nothing says class like a custom stamp feature in the front of the yard. We also have a variety of pre-made stamps that feature the look of boulders, natural rock and the ever popular compass design. If that's not what you're after, let us know. We love dipping into our artistic reserves and are seasoned at making customers happy through custom pattern design.
Wide Variety of Colors
As with all of the concrete curbing landscape borders offered by Dundee Concrete and Landscaping, you can choose from a wide assortment of colors to fit your style and taste. We use the Davis color pantones for our color choices. Take a look through the colors and find what works best for your project. We can also help you find the right color match while giving a free quote on site.
There is a wide variety of materials available for lawn edging and landscaping borders. These includes plastic, metal, wood, brick and stone. Concrete curbing offers a durable and attractive alternative.
Why Use Concrete for Lawn and Landscape Edging?
Plastic edging is more easily damaged by lawnmowers and other lawn maintenance machinery. Some types can suffer color fading or become brittle due to sun exposure. Plastic edging is not as rigid as concrete. It can pull out easier or stray from its intended location.
Some metal lawn edging can rust. Metal can be dented. It's pretty hard to dent concrete. Metal edging is usually quite thin and doesn't have the bold visual impact or styling choices of concrete curbing.
Wooden lawn edging and landscape borders have a tendency to rot. Treated wood won't rot as quickly, but then there are considerations to be made for the chemicals in treated wood, especially when food crops are involved. Splinters can also be an issue.
Bricks and stone lawn and garden borders can be nice but mortars can crack with freezing and thawing. If they're not mortared, stone or brick can stray or be knocked from where they are supposed to be.
These drawbacks can by and large be avoided by installing continuous concrete landscape borders. Your investment in concrete curbing will pay off with years of satisfaction.
Looking to Learn More About Curbing?
Here are some links to help you on the journey to that perfect curb. conc